Unlike with Gough-Nar I seem to be able to reenter Castle Aethdoc, so it's possible that I'll find some of these out in the natural course of gameplay. But here are a few things that I was unable to find on my first complete run through Castle Aethdoc.
Castle Aethdoc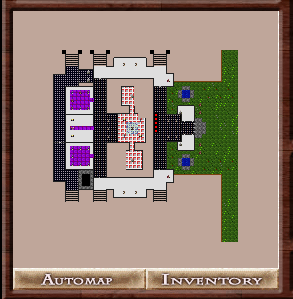 1 - The huge area in the center of the entrance! I was able to see a little of it through the upper windows (where the black tiled section attaches to the center area) and through the spell Piercing Sight- but I have
no idea
how to access this center area.
(Honestly this area is so significant and easy to notice that I'm relatively confident that it's either something I discover later or it's Romans-only)
Southern Aethdoc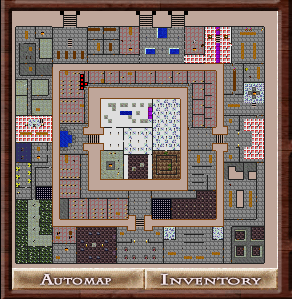 2 - The 1 tile-wide area between two rooms, located in the Northwestern-most part of the middling area (it is neither the outermost layer of SA, nor is it the innermost layer). I couldn't find an entrance to this area, so I assume there isn't one. Only reason I got it mapped is by Piercing Sight. [My party is pressed right up against it for reference]
3 - Indigo's chest. Located around the Northeastern area of the middling part of SA this time. Going to guess this is a Romans-only thing. (or maybe I could whack Indigo and nab his key?)
4 - The two locked grates (one at the Northwestern point of the Southern library; one located approximately SWW in the outermost layer of SA). Pretty self-explanatory, both require the 6th key (or I'm totally mistaken and I just have no idea how to unlock them).
Northern Aethdoc [with my party pressed against the blocked room]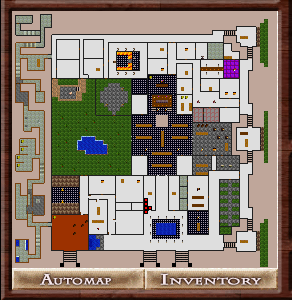 5 - The blocked-off room just to the West of the Western waiting room. No idea, maybe it's Romans-only.
Northern Aethdoc [with my party pressed against the
other
blocked room]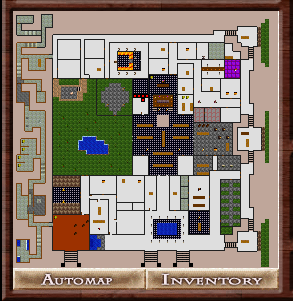 6 - The blocked-off room between the Chamber of the Eye and the Dining Hall. Guessing this one is Romans-only.
As with my Goagh-Nar thread: if you have any ideas or answers on the listed things that I couldn't clear, or something else to mention, go right ahead.